OUR FOUNDERS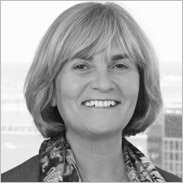 Maria J. Krokidas and Richard M. Bluestein
Maria Krokidas is a founder of Krokidas & Bluestein and presently serves as Of Counsel to the firm's transactional group. Full Bio »
Until his retirement in 2015, Richard Bluestein led Krokidas & Bluestein's litigation and labor and employment practices. Full Bio »

MARIA J. KROKIDAS
"We are partners with our clients; their loyalty to us matches ours to them."
Maria Krokidas is a founder of Krokidas & Bluestein and presently serves as Of Counsel to the firm's transactional group. She has over forty years' experience representing for-profit, nonprofit and public entities in real estate, finance and corporate matters. She has counseled nonprofit, for-profit and quasi-public authorities on corporate organization and operations including statutory and regulatory compliance and implementation. Maria has extensive experience advising public and quasi-public instrumentalities.
Maria is a magna cum laude graduate of Mount Holyoke College and a cum laude graduate of Harvard Law School. She actively serves on the Boards of Directors of several organizations including Nurtury, Inc., the Boston Lyric Opera, and Road Scholar.
Maria has received numerous awards and honors, including: the Women's Bar Association of Massachusetts' Lelia J. Robinson Award (2004); the South End Community Health Center's Health Care Heroes award (2006); the Massachusetts Women's Political Caucus's Abigail Adams Award (2007); Advocates Inc.'s Heart of Gold Award (2008); NEWiRE's Entrepreneur of the Year award (2010); and Massachusetts Lawyers Weekly's Top Women of Law (2014). Maria has been named a Massachusetts "Super Lawyer" in Real Estate by Thomson Reuters and Boston Magazine every year since 2006, and she was named to U. S. News & World Reports' 2016 Best Lawyers in America list in Real Estate Law and Land Use and Zoning Law.

RICHARD M. BLUESTEIN
"'Doing good' should be part of a law firm's core business, and not just an add-on."
Until his retirement in 2015, Richard Bluestein led Krokidas & Bluestein's litigation and labor and employment practices. After forming Krokidas & Bluestein with Maria Krokidas in 1982, Dick developed and oversaw the firm's litigation team, handling cases involving contracts, professional responsibility, personal injury and property damage, insurance, land use and environmental law, civil rights, consumer protection, public procurement, administrative law, and labor and employment. Dick specialized in cases involving public policy. In addition to litigation, Dick's practice also included matters concerning the development, management and financing of affordable housing.