OUR FOUNDERS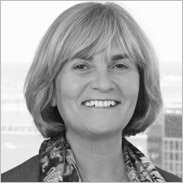 Maria J. Krokidas and Richard M. Bluestein
Maria Krokidas founded Krokidas & Bluestein with Richard Bluestein in 1982, and oversaw the firm's transactional group until her retirement in 2016. Full Bio »
Until his retirement in 2015, Richard Bluestein led Krokidas & Bluestein's litigation and labor and employment practices. Full Bio »

MARIA J. KROKIDAS
"We are partners with our clients; their loyalty to us matches ours to them."
Maria Krokidas founded Krokidas & Bluestein with Richard Bluestein in 1982, and oversaw the firm's transactional group until her retirement in 2016. Maria represented for-profit, nonprofit and public entities in real estate, finance and corporate matters. Maria also counseled nonprofit, for-profit and quasi-public entities regarding corporate organization and operations including statutory and regulatory compliance and implementation. She currently serves as Chair of the State Ethics Commission, to which she was appointed in October 2016.

RICHARD M. BLUESTEIN
"'Doing good' should be part of a law firm's core business, and not just an add-on."
Until his retirement in 2015, Richard Bluestein led Krokidas & Bluestein's litigation and labor and employment practices. After forming Krokidas & Bluestein with Maria Krokidas in 1982, Dick developed and oversaw the firm's litigation team, handling cases involving contracts, professional responsibility, personal injury and property damage, insurance, land use and environmental law, civil rights, consumer protection, public procurement, administrative law, and labor and employment. Dick specialized in cases involving public policy. In addition to litigation, Dick's practice also included matters concerning the development, management and financing of affordable housing.