BBA Week Article
Attorney Andrew Maglione Joins Krokidas & Bluestein's Health Care and Nonprofit Practices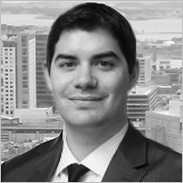 Attorney Maglione
(Boston, MA) September 12, 2019 – Krokidas & Bluestein is proud to announce the addition of Associate Attorney Andrew Maglione to its Health Care and Nonprofit practices. Mr. Maglione will work with the firm's administrative and corporate health care and nonprofit law teams with focus on regulatory and operational matters affecting health care and human service providers across the care continuum, including hospitals, clinics, behavioral health providers, home health and hospice agencies, clinical practices, long-term care and assisted living providers, and community-based human service organizations.
Prior to joining Krokidas & Bluestein, Mr. Maglione practiced at another Boston law firm advising health care providers on transactions, contracts (including clinical trial agreements), regulatory matters and corporate compliance, with an emphasis on fraud and abuse, HIPAA and health information privacy and security, facility licensing, Medicare and Medicaid certification, determination of need, and billing and payment matters. Mr. Maglione has previous law firm experience in financial services and mortgage banking litigation, labor and employment disputes, and sports law.
"We are pleased to have Andrew join our talented team of attorneys, maintaining Krokidas & Bluestein's strong reputation for thoughtful planning and commitment to our clients' needs," says Jennifer Gallop, head of the firm's Health Care practice. "Andrew's valuable experience and understanding of regulatory and professional matters affecting health care and human service providers makes him a strong addition to both our practice teams and our clients."
Mr. Maglione earned his J.D. from Suffolk University Law School, where he served as Chief Comment Editor of the Journal of Health & Biomedical Law, and holds a Bachelor of Arts, Public and Community Service from Providence College. In addition, he is a member of the American Health Lawyers Association and Boston Bar Association.

About Krokidas & Bluestein
Krokidas & Bluestein provides legal services to nonprofit, for-profit and public clients, as well as individuals, in the areas of health and human services, non-profit/tax, civil litigation, education, labor and employment, real estate development and finance, and commercial property management.